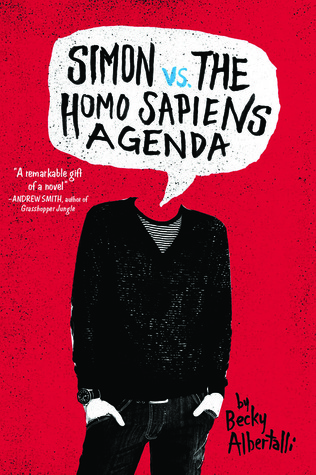 Simon vs. The Homo Sapiens Agenda by Becky Albertalli. 
Summary from Goodreads: Sixteen-year-old and not-so-openly gay Simon Spier prefers to save his drama for the school musical. But when an email falls into the wrong hands, his secret is at risk of being thrust into the spotlight. Now Simon is actually being blackmailed: if he doesn't play wingman for class clown Martin, his sexual identity will become everyone's business. Worse, the privacy of Blue, the pen name of the boy he's been emailing, will be compromised.
With some messy dynamics emerging in his once tight-knit group of friends, and his email correspondence with Blue growing more flirtatious every day, Simon's junior year has suddenly gotten all kinds of complicated. Now, change-averse Simon has to find a way to step out of his comfort zone before he's pushed out—without alienating his friends, compromising himself, or fumbling a shot at happiness with the most confusing, adorable guy he's never met.
My Opinion: This was a really good book. It was a fun, light, quick read. It wasn't really intense, but I couldn't put it down. I was dying to know how "Blue" was.
I also liked a lot of the moral messages this story had.
I really liked Simon's group of friends. I kind of wish there was actually more of them in the story.
Overall, I really did like this book. There's not a lot to say, honestly. I'm glad I got over being kind of close-minded about LGBT books, because this one was really good.
5 out of 5 stars.