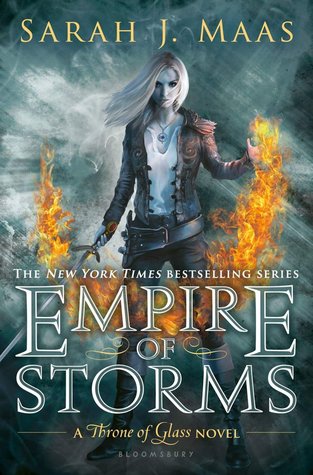 Empire of Storms by Sarah J. Maas
Rating: 5 out of 5 stars
Summary from Goodreads: The long path to the throne has only just begun for Aelin Galathynius. Loyalties have been broken and bought, friends have been lost and gained, and those who possess magic find themselves at odds with those who don't.
As the kingdoms of Erilea fracture around her, enemies must become allies if Aelin is to keep those she loves from falling to the dark forces poised to claim her world. With war looming on all horizons, the only chance for salvation lies in a desperate quest that may mark the end of everything Aelin holds dear.
Aelin's journey from assassin to queen has entranced millions across the globe, and this fifth installment will leave fans breathless. Will Aelin succeed in keeping her world from splintering, or will it all come crashing down?
My Opinions (spoiler-free until I say otherwise):
Wow, this really was quite an intense book. I really enjoyed it, but I still think Queen of Shadows is my favorite. Sometimes this book was just more focused on the plot then the characters, and sometimes I wished it was the other way around. I just didn't feel the same kind of connection to some of the characters like I did in Queen of Shadows. All I have to say before moving on to the spoiler section of this review is that I am so excited for the final book. I can already tell that it's gonna be really intense. Also, just a heads up, this series takes a turn content-wise in this book. I would no longer consider this book young adult, it's more new adult.
Now time for the spoiler section of this review. If you haven't read this book, you'll want to leave to avoid being spoiled. Come back after you've read this book so we can discuss.
There's no real good place to start discussing, so I'm just gonna dive in.
Let's start by discussing Manon and Dorian. I really like Dorian and I really like Manon, but not so much together. I had even started to ship them in Queen of Shadows, but after they actually hooked up I wasn't so sure anymore. Their relationship just felt really awkward to me. And Dorian didn't really seem like himself.
I did really like Lorcan and Elide's relationship. I know Lorcan screwed up in the end, but I hope it gets resolved in the last book, because I do really like them together.
I also started to ship Aedion and Lysandra in Queen of Shadows, but their relationship in this book just felt too rushed.
I was disappointed that Chaol didn't make more of an appearance in this book. He better be in the next book.
Of course, I am happy that Aelin and Rowan are officially mates, and that they're married. Didn't see that one coming.
I'm sad that Aelin has to die to save everyone now, but I'm hoping they'll find a loophole around that. But of course Rowan has to save her from Maeve before any of that can happen. I'm excited to see that showdown.
My heart really did break when we found out all that Aelin had sacrificed for those that she loved. She truly is a great Queen. I hope she gets a happy ending, because if anyone deserves it, she does.
I can't wait to see how Sarah J. Maas wraps this all up!