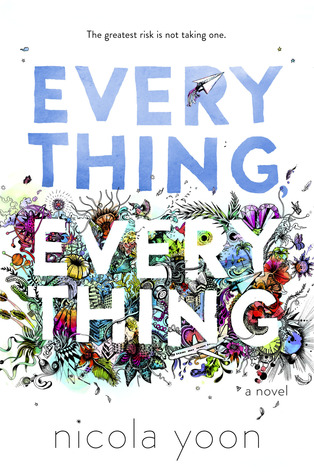 Everything Everything by Nicola Yoon.
# of Pages: 310
Genre: Romance/Contemporary
Overall Rating: 5 out of 5 stars
Do I recommend this book?
Absolutely, everyone should read it!
Summary from Goodreads:
My disease is as rare as it is famous. Basically, I'm allergic to the world. I don't leave my house, have not left my house in seventeen years. The only people I ever see are my mom and my nurse, Carla.
But then one day, a moving truck arrives next door. I look out my window, and I see him. He's tall, lean and wearing all black—black T-shirt, black jeans, black sneakers, and a black knit cap that covers his hair completely. He catches me looking and stares at me. I stare right back. His name is Olly.
Maybe we can't predict the future, but we can predict some things. For example, I am certainly going to fall in love with Olly. It's almost certainly going to be a disaster.
My Opinions (SPOILER FREE):
I know this book may sound a little cheesy, but trust me, this book is fantastic. I read the whole thing in one sitting, it was that good.
The writing in this book was extraordinary. It was so good because Nicola Yoon has a way of just making the smallest thing sound like poetry. It just caught me off guard because it was just so breathtaking. There wee also fun graphics throughout the story that I think really enhanced it.
The plot of this story was also fantastic. A few things were kind of predictable, but it didn't make the book any less enjoyable.
The romance also felt a little instant, but it was really cute, so I didn't mind.
I really wish there was a sequel to this book, because the ending was good, but I was left wanting so much more. There are still so many things I want to know more about!
Overall, Everything Everything was phenomenal and I highly recommend everyone reads it. 🙂