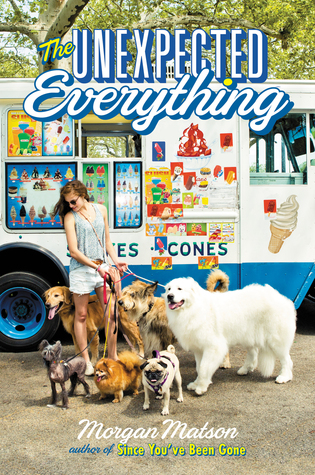 The Unexpected Everything by Morgan Matson
# of Pages: 519
Genre: Contemporary/Romance
Overall Rating: 5 out of 5 stars
Do I recommend this book?
Absolutely, such a fun, great read.
Ratings (out of 10):
Quality: 10
Pace: 10
Plot development: 10
Characters: 10
Enjoyability: 10
Ease of Reading: 10
Summary from Goodreads:
Andie had it all planned out. When you are a politician's daughter who's pretty much raised yourself, you learn everything can be planned or spun, or both. Especially your future. Important internship? Check. Amazing friends? Check. Guys? Check (as long as we're talking no more than three weeks).
But that was before the scandal. Before having to be in the same house with her dad. Before walking an insane number of dogs. That was before Clark and those few months that might change her whole life. Because here's the thing—if everything's planned out, you can never find the unexpected. And where's the fun in that?
My Opinions (SPOILER FREE):
This book was highly entertaining. I was a little worried going in that I would get really bored with it. Usually contemporaries are not near as long as this one, but it wasn't a problem. This book kept me entertained the whole way through. I loved every part of it and couldn't put it down.
This book was funny, sad, frustrating, happy, cute, and it basically just made me feel all different kinds of genuine feelings that I normally don't feel when reading other contemporaries.
The characters were absolutely fantastic. I loved them all, and it was so easy to connect with each one of their stories. I found myself so invested in a lot of the side characters' stories, and it's usually not like that in most contemporaries for me.
I guarantee if you read this book you won't be able to help yourself from falling in love with the wonderful set of characters that Morgan Matson created.
Morgan Matson's romances are always so good because they are always so much deeper than just a story about a boy and a girl falling in love. The main focus of this book was not the romance, and I loved that. This book was about learning to enjoy the little things in life and living every day to it's fullest potential. You don't have to be super successful in life to be happy. The unexpected everthings in life are what it make it worth living. 🙂