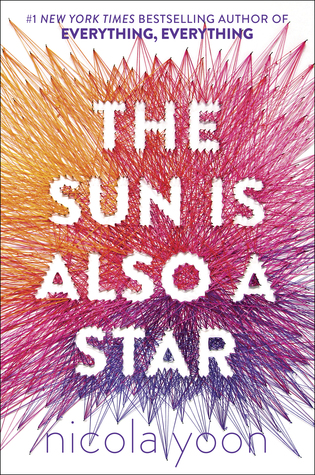 The Sun is Also a Star by Nicola Yoon
# of Pages: 348
Genre: Contemporary/Romance
Overall Rating: 4 out of 5 stars
Do I recommend this book?
Yes, to anyone who likes contemporaries
Ratings (out of 10):
Quality:9
Pace: 10
Plot development: 9
Characters: 9
Enjoyability: 9
Ease of Reading: 10
Summary from Goodreads:
Natasha: I'm a girl who believes in science and facts. Not fate. Not destiny. Or dreams that will never come true. I'm definitely not the kind of girl who meets a cute boy on a crowded New York City street and falls in love with him. Not when my family is twelve hours away from being deported to Jamaica. Falling in love with him won't be my story.
Daniel: I've always been the good son, the good student, living up to my parents' high expectations. Never the poet. Or the dreamer. But when I see her, I forget about all that. Something about Natasha makes me think that fate has something much more extraordinary in store—for both of us.
The Universe: Every moment in our lives has brought us to this single moment. A million futures lie before us. Which one will come true?
My Opinions (SPOILER FREE):
The main thing I loved about this book was the writing. The way it was formatted was so great. Nicola Yoon is such a talented writer, and her writing in this book was fantastic.
I also did really like the characters and their story, it was just hard to relate to them.
The only thing I didn't really like about this was that it all happened in the span of one day. I'm not a fan of insta-loves, and this was very insta-lovey. At times it was easy to forget the characters had just met, but other times I was like, "Okay, slow down guys, you just met."
Overall, I really liked this book, but was still a little disappointed, because I really did want to give this book 5 out of 5 stars.