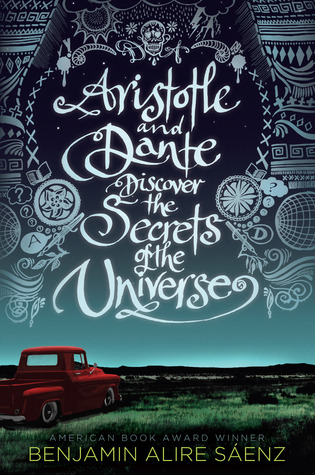 Aristotle and Dante Discover the Secrets of the Universe by Benjamin Alire Saenz
Genre: Contemporary
# of Pages: 359
Overall Rating: 5 out of 5 stars
Is this is a series? If so, will I continue?
No, this is not a series
Do I recommend this book?
Absolutely, and I definitely recommend you read it with the audiobook, because the audibook is read by Lin Manuel Miranda, and it's so good.
Ratings (out of 10):
Quality: 10
Pace: I listened to the audiobook
Plot development: 10
Characters: 10
Enjoyability: 10
Ease of Reading: 10
Summary from Goodreads:
Aristotle is an angry teen with a brother in prison. Dante is a know-it-all who has an unusual way of looking at the world. When the two meet at the swimming pool, they seem to have nothing in common. But as the loners start spending time together, they discover that they share a special friendship—the kind that changes lives and lasts a lifetime. And it is through this friendship that Ari and Dante will learn the most important truths about themselves and the kind of people they want to be.
My Opinions (SPOILER FREE):
I mainly just read this book because Lin Manuel Miranda was the one reading it to me, but I also fell in love with the story and the characters.
This is such a beautiful book about accepting people for who they are, and learning to love them no matter what mistakes they make. I just thought that message was so good.
I also really connected with these characters, which surprised me. I felt so much love, pain, joy, and sadness along with Aristotle and Dante.
I don't have anything else to really say about this book, but I highly recommend this book.