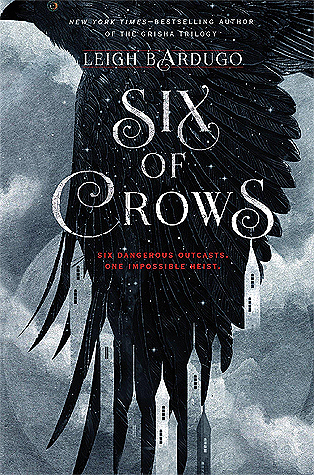 Six of Crows by Leigh Bardugo
Genre: Fantasy
# of Pages: 465
Overall Rating: 5 out of 5 stars
Do I recommend this book?
Absolutely, and you don't even have to read the Grisha trilogy before reading this one.
Ratings (out of 10):
Quality: 10
Pace: 9
Plot development: 9
Characters: 10
Enjoyability: 10
Ease of Reading: 9
Summary from Goodreads:
Criminal prodigy Kaz Brekker has been offered wealth beyond his wildest dreams. But to claim it, he'll have to pull off a seemingly impossible heist:
Break into the notorious Ice Court
(a military stronghold that has never been breached)
Retrieve a hostage
(who could unleash magical havoc on the world)
Survive long enough to collect his reward
(and spend it)
Kaz needs a crew desperate enough to take on this suicide mission and dangerous enough to get the job done – and he knows exactly who: six of the deadliest outcasts the city has to offer. Together, they just might be unstoppable – if they don't kill each other first.
My Opinions (SPOILER FREE):
Wow. This book was freaking fantastic. I loved it so much.
The thing that really made this book for me was the characters. They were all so awesome. I loved that each of them had their flaws, but they still managed to work together.
I also loved the plot. At the beginning I was worried I would get bored with the plot and goal, but I definitely wasn't. It ended up being so exciting, and this book was impossible to put down for like the last 200 pages.
Leigh Bardugo's writing style has also increased so much. I can definitely tell she's growing as an author.
I'm so excited to read the next book so I can learn more about all my favorite characters.
I definitely recommend this book to anyone who enjoys an exciting fantasy.